FairFishing is a non-profit International NGO, and our projects have been carried out through private and public funding, as well as several in-kind donations. Currently (2016-2018), our activities in the Horn of Africa are funded by the European Union. To continue our work after the end of the EU funded project, to develop the fishery sector in the region, private donations are essential and will allow us to create, organise and administrate activities, which promote better livelihoods for the coastal communities.
Make your donation through a BANK TRANSFER
You can support us by making a donation to the following bank account:
Merkur Andelskasse: Reg.no. 8401,  Account no.

1050733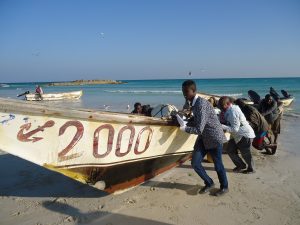 How is the money spent?
As of now, our focus has been on ensuring the immediate infrastructure for the fishers through establishment of cooling facilities, ice production, markets and a workshop for vessel and engine repair. To finance further activities, which will ensure the sustainability of our initiative, infrastructure improvements must be supplemented with education projects and inclusion of more actors working along fishery value chain from sea to consumer.
FairFishing' aim is to expand our activities by involving a broader network of local community to gain more employment opportunities along the fish value chain.
See the results of the Berbera Centre of Excellence HERE
To achieve the goal, we plan to focus on the knowledge-building activities, involving women and other vulnerable groups from local fishery communities. This will include training in fish species, hygiene and cooking, as well as training, chefs, and carry out informational campaigns in educational institutions to promote the nutritional benefits of fish
Why donate to FairFishing?
We fight the dramatic unemployment rates of 70 % among young men in the Horn of Africa. One job at sea generates several more along the fish value chain from sea to market and consumer, and for us, creating new jobs is the cornerstone for sustainable development.
We meet the climate induced challenges! It is predicted that in the coming years draught will become even more imminent and continue to pose challenges to livestock. Our work is aimed at diversifying food sources through including marine resources to avoid the growing food insecurity caused by re-occurring draughts.
FairFishing Membership Club: If you wish to become a regular supporter of FairFishing, consider becoming a member! FairFishing has a membership option, where you can become a part of our community, get the latest results of, how the project evolves and other benefits. To read more, click HERE.
LEGAL DESK: For Danish supporters, click HERE to read more on the options to donate funds through your inheritance.
SUPPORT US ON SOCIAL MEDIA: Please visit, like and share our Facebook group https://www.facebook.com/fairfishing.org?fref=ts, or follow us on Twitter https://twitter.com/FairFishing