An interview with a participant of our fishery training
Interview with Abdi Fatah Mohamed Hasan, a participant in the first technical training at sea program in Berbera 2017/2018.
Abdi is 23 years old and lives in Berbera, where he is also born and has grown up. None of his parents has been working in fishery sector before, but some of his friends do. He was contacted by FairFishing LOT2 Fishery Expert Jama, who asked if he wanted to attend the new fishery training program that FairFishing was starting up in December 2017, and he was happy to agree.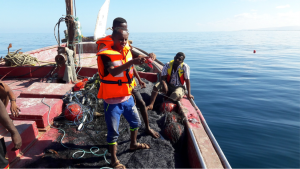 Practical fishery training at sea in Berbera, 2017
Experiences from the training program
Abdi explained that they had started the training program with one week on land, where they learned many different things that was important for the fishery, and it had all been new completely new to him. He had learned to swim, how to do first aid, different fish species and with what gear to catch them, as well as how to behave on a boat and, how to navigate it.
Reflecting back on what he had earned at sea, there were two things he would have liked to train and earn more about: Firstly, hygiene and fish handling and processing, and secondly, more technical training with different equipment at sea.
Abdi explained that the best thing about the training program had been, "when we one night caught and pulled up very big fish on the boat around midnight". The toughest and most challenging experience had been, "to roll and unfold the nets after catches! And the vomiting at night… The first week all participants got sea sick and vomited at night, when it was all dark. First week we all vomited, but last week was totally ok"
Thoughts on the future
Abdi was completely new to fishery, before he attended the FairFishing training program. All components in the training had been new. Now, he states that he is very excited to continue in the fishery and would like to be a trainer himself one day. He feels that he is ready to go to sea and work now, even if there are things he can learn better and train more. Actually, he will start work with one of FairFishing's partners now, called, Nec Fish. For the future he would like to be a captain, have his own business with several boats.
For the future work in the fishery sector, Abdi asked if there would be any further programs with more specified training that he could participate in, and if there was any possibility to get support with boats or business management from FairFishing. He mentioned that all participants enjoyed the program and wanted to continue in the fishery, but they still needed some support to create their own businesses.
To conclude the interview and his general experience of the training program, Abdi said that he had started out being afraid of the sea, but now he knows, how to swim very well and will even go swimming for fun sometimes.
(Berbera, Somaliland, 2nd of February 2018, by Malin Schmiedel)
https://fairfishing.org/wp-content/uploads/Fresh_Fish_By_FairFishing.png
0
0
Annija B
https://fairfishing.org/wp-content/uploads/Fresh_Fish_By_FairFishing.png
Annija B
2018-02-15 10:25:38
2018-02-15 11:35:14
An interview with a participant of our fishery training